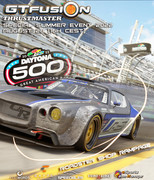 GTFusion Special Event Summer NASCAR
500 miles Daytona (200 Laps)
Roadster Shop Rampage 735ch or 725bhp/ 1406KG
be careful, buy the engine power restrictor
Tyres Race : all Requiered
Opening of the lobby at 3:30 p.m. CEST in order to test the proper functioning of the network between the pilots.
Qualification in free practice at 3:45 p.m. CEST.
Start Race Launched at 4 p.m. CEST.
Weather Selection Method: Preset Weather S01
Equal conditions mode:
NO
Time of day: Late morning.
Variable time period rate: X1
Type of start:
Launched
Starting order: fastest first
EDP: NO
Tuning: NO restrictions
Boost: No
Suction Force: Realistic
Visible damage: yes
Mechanical damage: Strong
Pneumatic wear:
X1
Fuel consumption:
X1
Refueling speed:
3 liters
per second Initial Fuel: Default
Reduction of off-road grip: Realistic
Delay before end of run: 180sec
Shortcut Penalty: Strong
Collision Penalty (Wall): Disabled
Adjusted trajectory after colliding with a wall: None
Collision penalty (car): Yes
Pit Lane Cut Penalty: Enabled
Transparency while running: Disabled
Flag Rules: Yes
Countersteering aid: Prohibited
GSA: Prohibited
Trajectory assistant: Prohibited
Traction control: No restrictions
ABS: No restrictions
Automatic driving: Prohibited